Application
TSM8 dual rotary contact structure and the energy release system ensures stable and reliable protection, and has excellent current-limiting characteristics. Transparent aluminum cover protects your trip unit from settings, rotary handle, motor operation mechanism, etc, can be installed.
Working environment
1.The altitude belows 2000m;
2.Circuit breaker can be used between -25ºC and +70ºC. For temperatures higher than 40ºC (65 C for circuit breakers used to protect motor feeders). devices must be derated;
3.It can withstand the impact from humid air, salt spray, oil mist and mold;
4.It should be installed in places with no danger of explosion, no conductive dust, and no substance enough to corrode metal or damage the insulation;
5.In places with no rain and snow erosion;
6.Pollution degree
7.Installation category Ill.
Specification
Rated insulation voltage(V)
Ui
800
Rated impulse withstand voltage(kV)
Uimp
8
Rated operational voltage(V)
Ue
AC50/60Hz,690V
Utilization category
A
Control
Manual
with toggle / with direct or extended rotary handle
Connections
Fixedf
frontconnections / rear connections
Plug-in
front connections
Thermo-magnetic trip unit for TSM8-100~250

Protection
Thermal protection
Magnetic protection
Ir(A):Adjustable (0.7~1)xIn
16-160A
200-250A
Im(A):fixed
Im(A):Adjustable(5~10)xIn
MIC 2.3 electronic trip unit for TSM8-400~630

Protection
Settings are made using the adjustment dials with fine adjustment possibilities.
Overload protection: long time protection(Ir)
Inverse time protection against overloads with an adjustable current pick-up lrsetusing a dial and a non-adjustable time delay tr.
Short-circuit protection: Short-time protection with fixed time delay(Isd)
Protection with an adjustable pick-up lsd.
Tripping takes place after a very short delay used to allow discrimination with the downstream device.
Short circuit instantaneous protection:(li)
lnstantaneous short-circuit protection with a fixed pick-up
MIC 5.0 electronic trip unit for TSM8-800~1600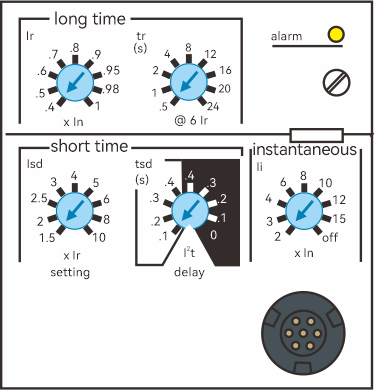 Protection
Protection thresholds and delays are set using the adjustment dials.
Offer standard long time delay setting module.
Overload protection
True rms long-time protection.
Thermal memory: thermal image before and after tripping.
Short-circuit protection
Short-time(rms) and instantaneous protection.
Selection of lt type(ON or OFF) for short-time delay.
Neutral protection
On 3-pole circuit breakers, neutral protection is not possible.
On 4-pole circuit breakers, neutral protection may be set using a three-position switch: neutral unprotected (4P 3d), neutral protection at 0.5lr (4P 3d +N/2) or neutral protection at lr (4P 4d).
Indications
Overload indication by alarm LED on the front; the LED goes on when the current exceeds the long-time trip threshold.
Test
A mini test kit or a portable test kit may be connected to the test connector on the front to check circuit-breaker operation after installing the trip unit or accessories.
Specification
Model
Rated Current
Number of Pole
Ultimate Breaking capacity Icu(kA rms) AC50/60Hz 380/415V
Rated service Breaking capacity Ics(kA rms) AC50/60Hz 380/415V
Mechanical Endurance
Electrical Endurance
TSM8-100
16A,20A,25A,32A,40A,50A,63A,80A,100A
3P,4P

F=36KA

N=50KA

H=70KA

Ics=100%lcu
20000
10000
TSM8-160
63A,80A,100A,125A,160A
20000
10000
TSM8-250
100A,125A,160A,200A,250A
20000
10000
TSM8-400
160A-400A
10000
5000
TSM8-630
250A-630A
10000
5000
TSM8-800
320A-800A
10000
5000
TSM8-1000
400A-1000A
10000
5000
TSM8-1250
500A-1250A
10000
5000
TSM8-1600
640A-1600A
10000
5000
Dimensions

Number Of Poles
3P
4P
A
B
C
D
E
Ø
A
B
C
D
E
Ø
TSM8-100~250
86
161
105
35
125
2-Ø6
86
161
140
70
125
4-Ø6
TSM8-400~630
110
255
140
45
200
4-Ø6
110
255
185
90
200
4-Ø6
TSM8-800~1600
147
327
210
199
200
4-Ø6.5
147
327
280
339
200
4-Ø6.5