A distribution board is the main electricity supply system. A distribution board is also known as the Panel Board or Electric Panel. Its main feature is to distribute the power supply to different individual circuits. The main cable is attached to the distribution board and other cables are distributed in lights and plugs. The main purpose of the distribution board is to distribute the electrical supply to the different circuits of the buildings or any commercial area. At present time safety is most important especially working with cables and wires in-home and in the workplace.
TYPES OF DISTRIBUTION BOARDS
Single Door Board:- For domestic supply simple one-door distribution board is used which is available in 4-way, 8-way, and 16-way configuration.
Double Door Board:- Double door distribution board is majorly used in commercial areas. Where a large number of electrical connections are required.
Main Features of the Distribution Board
The main feature of the distribution board is that it should be safe. The main part of the distribution board is its fuse which controls the overcurrent. In case of overcurrent, it automatically shuts down the main supply so it safe the home from any electrical danger.
Another main feature of the distribution board is that these days people pay high attention to the look of the distribution board. So there are many types of design available in these boards so that it gives a decent look in your home and does not look odd according to the decor of your workplace and the home.
Another important feature of the distribution board is that it should be user-friendly so that anyone can use it. If it is not user-friendly then it is of no use. If it is well installed and user-friendly then it can ensure the safety and long life of your electrical distribution.
There are many companies that manufacture and install distribution boards but it is necessary for all to choose the right product so that it can last long. Same in distribution boards one should choose a good company distribution board which is reliable and installed properly.
A simple electrical distribution board consists of a bus bar, fuse links, switches, a residual current detector, and bypass equipment.
INSTALLATION PROCESS
The main and the most important thing is that the distribution board should be installed by the professional team and installed in the right place of your home or commercial place.
There should be a proper place to decide where you want to install the distribution board.
It should be installed in a clean place that is dry and easy to access.
There is a wide range of designs and finishes available on the distribution board according to your decor.
The area where you installed the distribution board should be away from any fire-related area.
It is also ensured that while installing the distribution board it should be done by a professional team.
The most important thing is that the wires and the cables which are used in the distribution board are of good quality.
Before installation of the distribution board, it is necessary to know what your requirements are. You must take advice from an expert who has sufficient knowledge of the distribution board and your needs.
Before installing the distribution board, first of all, it is necessary that a consultant engineer should be there to inspect all the things in the place where the distribution board is going to be installed. It is the duty of the consultant engineer to ensure that all the material which is used in the distribution board is according to the need.
If there is anything or material that is not according to the list it can be removed from the site.
The distribution board which is used in the house and the commercial area is different. Because in residential area load is not much higher in comparison to commercial areas. Following are the types of distribution boards used in industries:
·1. Motor Control Centers
·2. User-Friendly Human Machine Interface
·3. Operator Panels
·4. Industrial Hydraulic Control Panel
·5. Programmable Logic Controller Panels
·6. Industrial Hydraulic Control Panel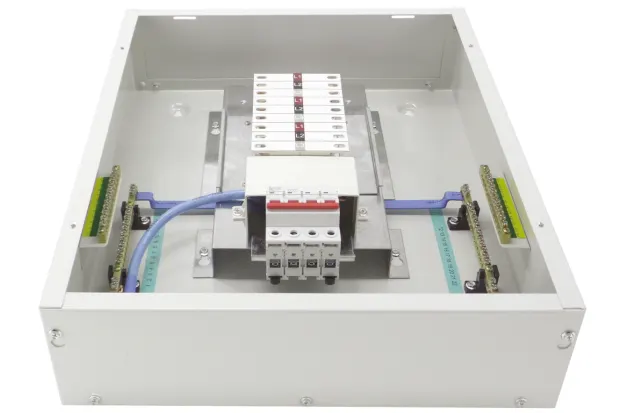 Based on the requirement and application distribution board vary. There are many types of distribution boards. Only a professional engineer can tell which type of distribution board is installed as per your requirement. That is why it is very important that before installing the distribution board you should take advice from an engineer or professional who has knowledge of this area.
Fuse Boxes: A fuse box is a unit where all the electricity is equally distributed and controlled. The most important thing is where it should be installed at home. It is important that it should be in a place where you can visit quickly so that you can turn it off easily.
Main Breaker Panel: Main work of the breaker panel is that it protects the circuits and also keeps control circuits from overheating which is dangerous. The breaker panel is connected with the 3 wires along with each circuit.
Main Lug Panel: Lug panel is used as the sub-panel when it is connected with a breaker through the main panel. Many Line wires run into these lugs.
Sub-panels: Sub-Panels are very easy to install. It is much safer in comparison to the other panels. Sub-panels are efficient for the home. It is very small and distributes the power in a particular area. The main benefit of this type of panel is that they do not get disconnected.
Transfer Switches: They transfer loads among two electrical sources. They are very safe. They are best for the backup of the generators. They convert generator power to electrical power very safely. They are of two types one is manual transfer switches and another one is automatic transfer switches.
All of the above types of distribution panels have their own work. So An engineer can guide you on which type of distribution board is useful for you and fulfill your requirements. So a distribution panel is an important part of today's electrical requirement. It is just like a safeguard of your home.